Indian Railway; 80 new trains: The Indian Railways will run 80 new trains (40 pairs) starting from September 12, tickets of which went live on Thursday at the Indian Railways website. These trains will be in addition to the 230 special trains already in operation — introduced at various stages of lockdown and unlocking in the last six months. The tickets are also available from station counters.
All regular passenger trains were suspended on March 25 owing to the nationwide lockdown. From May, the railways resumed operations in a staggered manner — first it ran Shramik Special trains to ferry migrants workers, then it introduced special trains, which are not regular passenger trains tailor-made according to demand. These new 80 trains, which will connect Delhi-Indore, Yesvantpur-Gorakhpur, Puri-Ahmedabad, Delhi- Bengaluru among other routes, will also be special trains.
These trains will be in addition to the existing 30 special Rajdhani type trains that started in May and 200 Special Mail Express trains introduced in June as part of the total 230 trains.
"For the convenience of rail passengers, the Railways have decided to run special trains," a statement from the Northern Railways said on Wednesday.
It added, "The Bengaluru-New Delhi-Bengaluru air-conditioned (AC) Special train will run from Bengaluru on September 12 and from New Delhi from September 14. It will run in the path and timings of the Bengaluru-Hazrat Nizamuddin-Bengaluru Rajdhani Express. The Delhi-Alipurdwar-Delhi Special train is presently running up to Katihar. Railways have decided to run this train to/from Alipurdwar from September 12."
It further said, "The Dibrugarh-Amritsar-Dibrugarh weekly special train will run from September 15 from Dibrugarh while the Amritsar-Dibrugarh weekly special train will run from September 18."
Here's the complete list of 80  new trains that will be in operation from 12th September: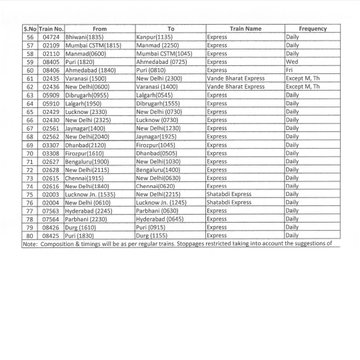 Earlier, the Indian Railways said it will run special trains across states for students appearing for the National Eligibility cum Entrance Test (NEET) and Joint Entrance Examination (JEE). The National Testing Agency (NTA) is conducting the NEET on September 13 and JEE from September 1 to September 6.
Here's how you can book the tickets:
Step 1: Visit the official website at irctc.co.in
Step 2: On the homepage, click on the login option
Step 3: Now, go to 'book your ticket' page
Step 4: You will need to enter your starting and destination stations
Step 5: Select the date of journey and the class of the train in which you want to travel
Step 6: Check what seat is available and then click the 'Book Now'option
Step 7: Enter all the details asked
Step 8: Enter mobile number and captcha code
Step 10: Pay fees using internet banking, debit or credit card, or via UPI
Step 11: You will receive a confirmation message on your phone