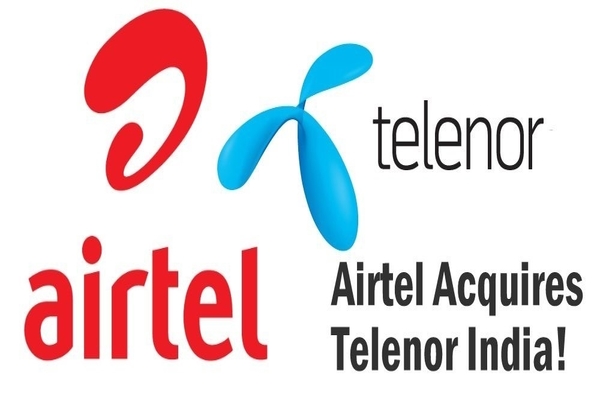 The Department of Telecommunications (DoT) on Monday approved the merger of Bharti Airtel with the Indian unit of Norwegian telecom major Telenor India, a notice said here.
The notification said DoT has transferred all licences and liabilities of Telenor India to Bharti Airtel.
The notification said: "The present merger is taken on record without prejudice to the rights, contentions, remedies and steps which may be taken by the Department, in pursuance of any subsequent orders of any orders, judgements and decisions of Hon'ble Courts/Tribunals in related matters" pending in the Bombay High Court, TDSAT and Supreme Court."
The DoT's notification came after the Supreme Court last week quashed DoT's effort to make Bharti Airtel furnish a bank guarantee of Rs. 1,499 crore as a pre-condition to approving the Telenor India acquisition.
Bharti Airtel had received the approval of the Securities and Exchange Board of India (SEBI), BSE, National Stock Exchange of India Limited (NSE) and Competition Commission of India for the proposed merger with Telenor (India) in June last year.
Airtel had announced on February 23, 2017 that it has entered into a definitive agreement with Telenor South Asia Investments. As part of the scheme, Airtel will acquire Telenor India's running operations in seven circles – Andhra Pradesh, Bihar, Maharashtra, Gujarat, Uttar Pradesh (East), Uttar Pradesh (West) and Assam.
"These circles represent a high population concentration and therefore offer a high potential for growth. The proposed acquisition will include transfer of all of Telenor India's assets and customers, further augmenting Airtel's overall customer base and network," the telecom major said in a statement earlier.
"It will also enable Airtel to further bolster its strong spectrum footprint in these seven circles, with the addition of 43.4 MHz spectrum in the 1,800 MHz band," it added.
During the acquisition announcement the deal was estimated to be in the range of Rs. 1,800 crores-Rs. 2,000 crores by industry sources.