Delhi Metro on Thursday reopened the Red (Rithala-Shaheed Sthal), Green (Kirti Nagar/Inderlok-Brig. Hoshiar Singh), and Violet (Kashmere Gate-Raja Nahar Singh) Line, a day after resuming services on its longest line that connects Dwarka/Vaishali to Noida Electronic City.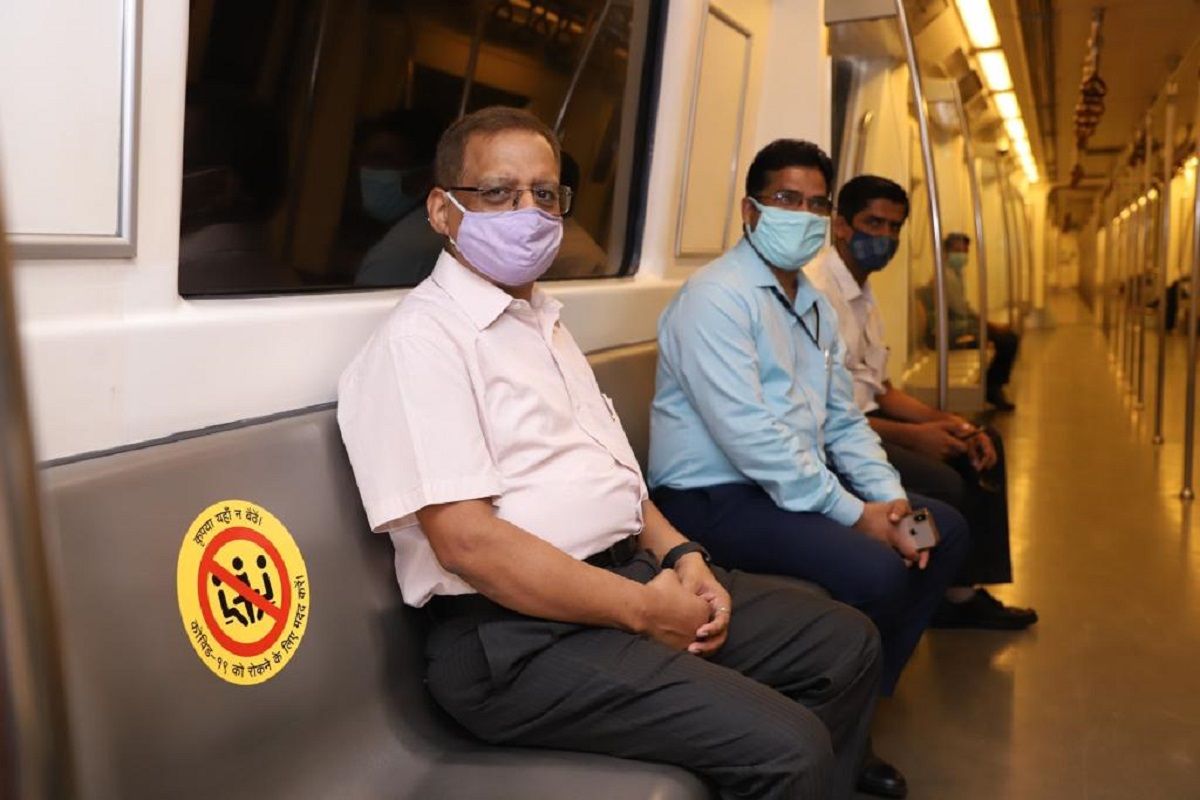 The entirely elevated 34.4km Red Line (Rithala-Shaheed Sthal New Bus Adda), which has 29 stations, not only connects the northwest fringe of the capital to the northeast but also enters Ghaziabad. Blue Line (Dwarka-Vaishali) was the first to enter Ghaziabad with just two stations. Red Line has eight stations in Ghaziabad and the 9.6km section serves the interior parts of the NCR.
Delhi Metro Rail Corporation resumes services on red, green and violet lines

(Visuals from Raja Nahar Singh metro station in Ballabhgarh, Haryana)#DelhiMetro #Unlock4 pic.twitter.com/AozXrDXxPy

— TOI Gurgaon (@TOIGurgaon) September 10, 2020
On Wednesday, the Blue and Pink lines were made operational with the same schedule. The Red Line (Rithala to Shaheed Sthal New Bus Adda (Ghaziabad); Green line (Kirti Nagar/Inderlok to Brig. Hosihar Singh); and Violet Line (Kashmere Gate to Raja Nahar Singh) will resume services from September 10 with the same time schedule, the Delhi metro rail corporation (DMRC) said on Wednesday.
With services available on multiple lines (Yellow, Blue, and Pink Lines), the total ridership on Wednesday was nearly 53,400 till 8 PM, the DMRC said in a statement. The Yellow Line saw an approximate ridership of 26,900, the Blue Line 22,600, and the Pink Line 3,900, it said.
Red Line will have interchange facilities at Welcome with Pink Line (Majlis Park-Shiv Vihar) and Green Line at Inderlok, apart from connecting with Yellow Line (Samaypur Badli-Huda City Centre) and Violet Line at Kashmere Gate, Delhi Metro's biggest interchange hub.
Kashmere Gate is also where the north end of the Violet Line terminates, connecting the interchange station with busy areas like ITO and Janpath. It also provides another interchange point with Yellow Line at Central Secretariat, then moves south to Khan Market, Lajpat Nagar, Delhi's IT hub Nehru Place, Sarita Vihar, and Badarpur, before entering Haryana and reconnecting Faridabad and Ballabhgarh to the network.
"Delhi Metro Rail Corporation (DMRC) will be running 35 trains on Red Line to take 413 trips on September 10. Similarly, 40 trains with 344 trips will be put into service on Violet Line," said Anuj Dayal, executive director (corporate communications), DMRC. "On Green Line, 20 trains with 268 trips will be put into service. The trips will be increased from September 11 and 12 with the opening of other lines," he added.
GreenLine connects parts of northwest Delhi, like Pashchim Vihar, Mundka, Peeragarhi, etc to Brig Hoshiar Singh station in Bahadurgarh, Haryana.
Friday will see the opening of the Magenta Line (Janakpuri West-Botanical Garden) and Grey Line (Dwarka-Najafgarh) and extension of service timings from 7 am to 1 pm and 4 pm to 10 pm. From Saturday, operations will return to normal, from 6 am to 11 pm, like things were before the shutdown on March 22. At the same time, Airport Express Line will also become operational.
Mean-while, The Covid-19 tally in India rose to 4,465,863 after nearly 96,000 fresh cases were registered in a single day. The death toll also increased from 73,890 to 75,063, according to the latest data released by the Ministry of Health and Family Welfare. The number of recoveries stood at 3,471,783.