PPF Calculator: (The Public Provident Fund) PPF account is one of the most preferred retirement-oriented investments among earning individuals. This is one of the central government-backed small saving schemes that give assured returns. Currently, the PPF interest rate is 7.1 percent, which is enough to beat inflation over the long term. According to tax and investment experts, one can accumulate wealth for one's retirement fund through PPF which is able to beat the inflation rate of some 6 percent over the long term.
The interest rate offered on PPF is higher than most other investment products of similar tenure that offer guaranteed returns. The investments in PPF can be made in a lump sum or in a maximum of 12 installments. The minimum investment allowed is Rs 500 and the maximum is Rs 1.5 lakh for each financial year. The current interest rate is 7.1% p.a and the tenure of the PPF account is 15 years.
The tenure of the PPF account is 15 years and after the account maturity, one can either exit or opt for an extension. On the other hand, in NPS, the period of investment is till superannuation or 60 years of age whichever is earlier.
However, according to Shukla, PPF wins over NPS when it comes to tenure and NPS holds the better position with earnings aspect.
To achieve the goal of reaching Rs 1 crore from PPF, investors need to be patient and regularly invest for 25 years at the current interest rate of 7.1 percent, utilizing the maximum limits of PPF investments allowed in one financial year, according to calculations provided by Groww—an investment platform.
PPF Calculator: This is how a fund of 1.5 crores will be made
You can invest a maximum of Rs 1.50 lakh in a PPF account in a year. Suppose, you invest Rs 12,500 every month in a PPF account. After maturity in 15 years, you can extend your PPF account in blocks of 5-5 years. In such a situation, after 30 years, the entire fund of your PPF account will be more than 1.5 crores (1,54,50,911). In this, your investment will be 45 lakhs and interest income will be around Rs 1.09 crores.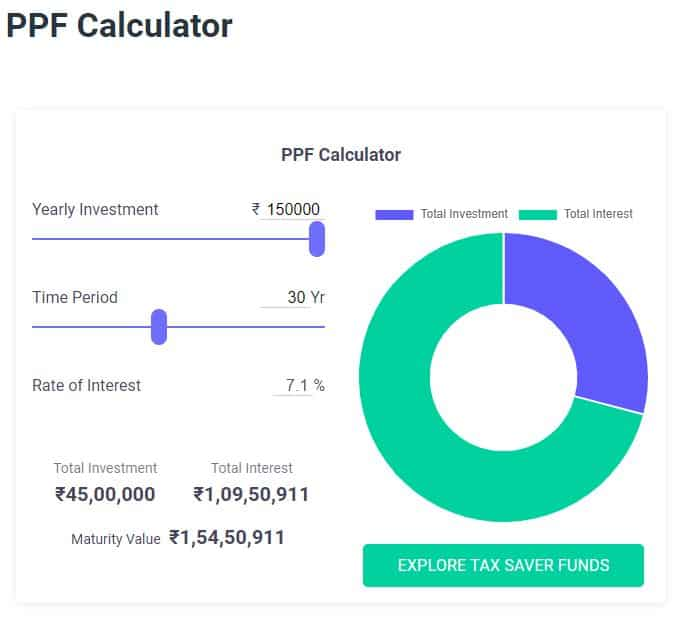 In this period of 30 years, one would be investing Rs 45 lakh and the PPF interest getting credit into the PPF account will be Rs 1,09,50,911. So, in short, one can become a crorepati by investing in PPF.