GST Rates Revised
GST rates revised December 2018: The GST council on Saturday announced tax cuts on a number of items. The tax cuts are being seen as an attempt to further stabilize and strengthen the tax regime. Ficci`s President Sandip Somany said in a statement, "The GST council has followed a pragmatic policy by bringing down the rates gradually, taking into consideration the revenue realization and affordability, and this will stabilize and strengthen GST further."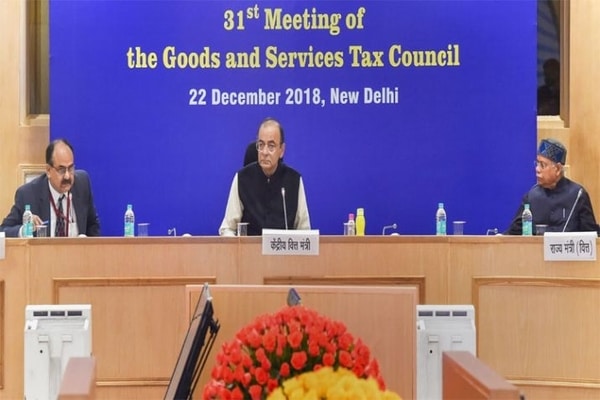 "The government has been proactively engaging with various sectors and I am confident that going forward the council would continue to address issues," he added. Mohani observed that there may be further cuts on more items in the council`s next meeting and the remaining issues pertaining to GST application and administration would be resolved speedily. The tax regime is set to yield larger gains for the economy, said Mohani.
In its 31st meeting, the GST council reduced tax rates on goods and services including movie tickets, TV and monitor screens, and power banks, and exempted frozen and preserved vegetables from the levy. 
1. GST Rates of 7 items reduced from 28% to 18 %. Items include tires, VCR, billiards & snooker and lithium batteries. 
2. GST Rate of 33 items has come down from 18% tax slab to 12% and 5% tax bracket as they are common man consumption goods. These items include Third Party insurance Vehicle and Solar Power Systems 
3. Only 34 items will be taxed at 18% GST Rate or more 
4. All items except luxury goods would be taxed under 28% GST Rate 
5. The GST Council is also looking into introducing a composition scheme for the real estate sector. A view on the Real Estate sector will be taken in next GST Council meeting 
6. A composition Scheme will be framed for Small Service provider. Threshold and mechanism will be decided in next GST Council Meeting 
7. MSME Committee may re-consider the thresh hold limit of 20 Lakh for larger interest. 
8. Centralized authority for Advance ruling in case of conflicting views of Advance Ruling Authorities. The decision of Centralized authority will bind the whole country. 
9. New GST Refund filing system will be introduced on a pilot basis with effect from 1st April 2018 
10. Addition GST fees waived for returns filed up to 31st March 2019 
11. GST Annual return date extended to 30th June 2019 
12. ITC for last FY invoices allowed up to March 31, 2019 
13. New GST Return to be launched on trial basis from April 1, 2019 
Next GST Council meeting will be held in January 2019.