At the India Mobile Congress (IMC) 2019, Jio unveiled its patent-filed jio Video Call Assistant based on AI. The new customer support and communication will enable customers to skip the painstaking call holds during support calls and directly be served as a solution. This feature can be accessed via a 4G phone call and users on the other end wouldn't need to install any additional app.
The AI Jio Video Call Assistant is capable of listening and understanding a customer's questions. It will then be able to respond to queries according to the most appropriate solution and continue learning. The assistant was developed by Jio in collaboration with US-based Radisys which is, in fact, a Reliance Industries subsidiary. With the deployment of the AI assistant, brands will be able to make customer engagement more efficient.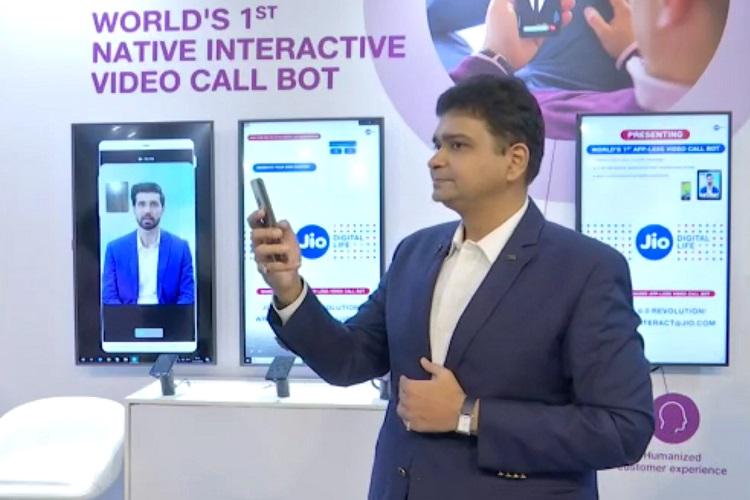 Additionally, Jio also announced the Jio Bot Maker that is part of the Jio Bot platform to make it easier for small businesses to make their own AI-based bots. Jio says that the video call bot can be customised as per the brand's requirements. It can be given a unique avatar to represent a particular brand. Users will be able to access the bot through a video call enabled helpline. The assistant supports multiple languages making it more accessible.
Mathew Oommen, President of Reliance Jio Infocomm Ltd said, "Jio is committed to bringing innovative and relevant digital solutions to enable and empower businesses to conduct their operations more efficiently and Video Call Assistant is one such example of bringing a truly innovative and engaging product for millions of businesses in India."
The Jio video bot will be able to listen to customers' questions and respond to them in the most appropriate way. In addition, the platform will also have an auto-learning feature that will help to improve the answering accuracy. The platform will also include the Jio Bot Maker, which aims to democratise AI by enabling small businesses to create their own AI-based Bot with no-coding and with minimal effort.
Radisys is helping us make AI accessible for everyone, so that businesses – small or large can reap the benefits of new and emerging technologies. Radisys' innovation continues to help accelerate Jio's global innovation and technology leadership in the areas of 5G, IOT and open source architecture adoption," said Mathew Oommen, President of Reliance Jio Infocomm Ltd.
The person who appears on the video chat could be replaced by anyone from the CEO of a company to a brand ambassador, Reliance Jio said. "We aim to democratize AI by enabling small businesses to create their own AI-based Bot with no coding and with minimal effort," it added.
The company plans to introduce support for multiple languages to its bot service and serve "millions of businesses" across various industries in India.
Jio did not reveal when it plans to launch the developer kit to the public, but a spokesperson told TechCrunch that it will be made available "in the near future."
Jio has made no secret that it wants to develop AI assistants to help businesses. Last year, it acquired Haptik, a Mumbai-based startup that develops "conversational" platforms and virtual assistants. The size of the deal was $100 million.