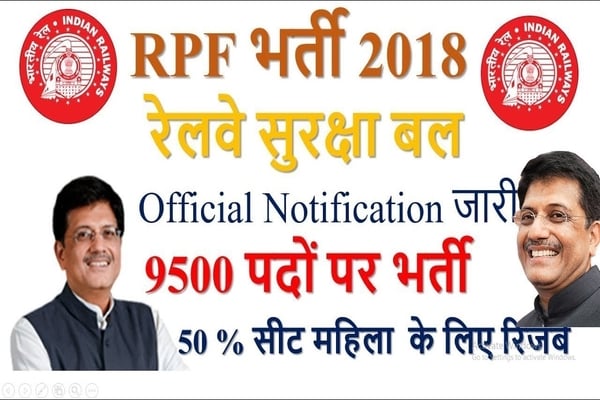 50% reservation for women in RPF recruitment: In a bid to increase women employees in Railways, Railway Minister Piyush Goyal on Sunday said that there would be 50 per cent reservation for women in the upcoming recruitment of up to 10,000 Railway Police Force (RPF) jawans. At an event in Patna, he also informed that the Railways will soon hire 13,000 staff through a computer-based test. 
The Railway Minister also said that the process for the recruitment in 13,000 jobs in Railways will begin soon. Informing about the criteria, he said that the Ministry will not conduct an interview but the recruitment will be done on the basis of a computer-based test.
"In upcoming recruitment of 9500-10000 RPF jawans, there will be a 50% reservation for women and 13,000 jobs are also coming up in Railways in which there will be a computer-based test, no interviews," Piyush Goyal was quoted as saying in a tweet.
Meanwhile, the Indian Railways has slashed down AC coach ticket prices for five trains recently. To encourage people to take more AC trains, the South Western Railway (SWR) has cut down fares of five express trains from Bengaluru, Gadag and Mysuru in Karnataka, an official told. 
"By reducing AC chair car fare in Shatabdi Express between Mysuru and Chennai via Bengaluru, we got more number of passengers travel in the superfast train than bus or flight", an SWR spokesperson told. 
"Impressed by the response to lower fare in Shatabdi, leading to higher occupancy, the zonal railway has lowered AC fare in Bengaluru's Yesvantpur-Hubballi weekly express to Rs 590 from Rs 735," he further added. 
"The response was encouraging when we introduced the lower fare in the weekly express for the first time a week ago (August 4)," said the official. According to the report, AC fare in Mysuru-Shirdi weekly express will be Rs 260 instead of Rs 495 between Mysuru and Bengaluru from December 3. Three AC fare in Yesvantpur-Bikaner Express between Bengaluru and Hubballi will be Rs 590 instead of Rs 735 from November 30. Three AC fare in Yesvantpur-Secunderabad Express will be lower at Rs 305 from Rs 345 from November 22. 
"The fares have been slashed as part of the dynamic fare fixing based on traffic pattern than on demand-supply ratio," added the official.