India on Tuesday, after a gap of two years, lifted the ban on international flights. The overseas flights, suspended because of the pandemic, will be available from March 27.
"After having recognized the increased vaccination coverage across the globe and in consultation with the stakeholders, the Government of India has decided to resume scheduled commercial international passenger services to/from India from 27.03.2022, i.e. start of Summer Schedule 2022," read a statement from the Civil Aviation Ministry.
Top travel industry officials say regular flight fares will definitely be much lower than exorbitant bubble charges but they are unlikely to be close to their pre-pandemic levels as crude is now close to the $140-mark and rupee has crashed below 77 mark to the US dollar. Jet fuel prices globally are at 14-year high.
Also some foreign airlines are not overflying Russian airspace due to which they have to take longer routes — like Delhi-London on British Airways and Delhi-New York on United. Or have dropped routes like United suspending Delhi-San Francisco and Mumbai-Newark as taking longer routes on ultralong/long hauls when fuel is so expensive becomes unviable.
Union aviation minister J M Scindia Tweeted Tuesday: "After deliberation with stakeholders and keeping in view decline in Covid cases, we have decided to resume international travel from March 27 (start of summer schedule). Air Bubble arrangements will also stand revoked thereafter."
After deliberation with stakeholders &keeping in view the decline in the #COVID19 caseload,we have decided to resume international travel from Mar 27 onwards.Air Bubble arrangements will also stand revoked thereafter.With this step,I'm confident the sector will reach new heights!

— Jyotiraditya M. Scindia (@JM_Scindia) March 8, 2022
The aviation ministry says "international operations shall be subject to strict adherence to (current) health ministry guidelines." India had suspended regular international flights on March 23, 2020. The plan to resume them on December 25, 2021, had to be shelved due to Omicron.
Both Indian and foreign airlines have begun preparations to add flights. Lufthansa (LH) Group currently has 22 weekly flights on Swiss and LH between Frankfurt, Munich and Zurich, and Delhi, Mumbai and Bengaluru. It will raise the number of weekly flights to 28 next month; 33 in May when Chennai will be back on the network; 39 in June and 42 by October, said an official.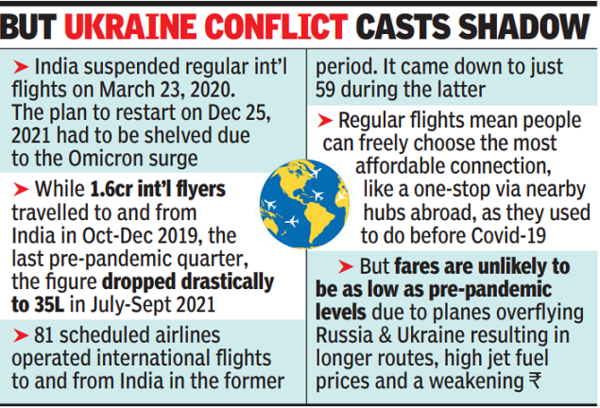 Air bubble pacts with major destinations for desi travellers and the diaspora like North America, UK, UAE and Germany kept India connected with the world during Covid through expensive options with strict restrictions on who can fly which airline upto where. Resumption of regular flights will mean people can again freely choose the most affordable connection, like a one-stop via nearby hubs abroad as they used to do pre Covid. The Gulf accounted for over a third of all travel to and from India due to high transit traffic on big airline there. Or they can opt for nonstops that charge more for the convenience they offer.
.
Speaking about fares, Travel Agents Federation of India joint secretary Anil Kalsi said: "For instance, Delhi-Dubai-Delhi economy average return fare before March 2020 used to be about Rs 20,000. During Covid the limited air bubble flights saw this figure reach as high as Rs 80,000-90,000. Now it could drop to Rs 30,000 as capacity increases after March 27."
A senior official of an Indian carrier said India-London-India average economy return fare used to be Rs 55-60,000 pre-Covid. This rose to over Rs 1.5 lakh under the limited bubble flights and cold drop to Rs 75-85,000 now.