SBI doorstep banking: India's largest commercial bank, the State Bank of India (SBI), has launched 'Doorstep Banking' for senior citizen customers over 70 years of age, differently-abled customers and infirm customers, including visually-impaired customers also. As per the press release issued by the bank, under this new facility customers will be able to avail of certain specific services at select branches.
In order to avoid Un-necessary walks outside, and let their Customer(senior citizens and specially-abled people) not suffer during the lockdown period(till 14 April), the State Bank of India has taken this step. SBI account holders will be able to avail of these services at select branches only. The cash would be delivered under its doorstep delivery services.
SBI in its tweet said that- "Our staff from Nagaon branch made sure that customers experience seamless banking service by providing them door-step cash facility. We shall fight this pandemic together."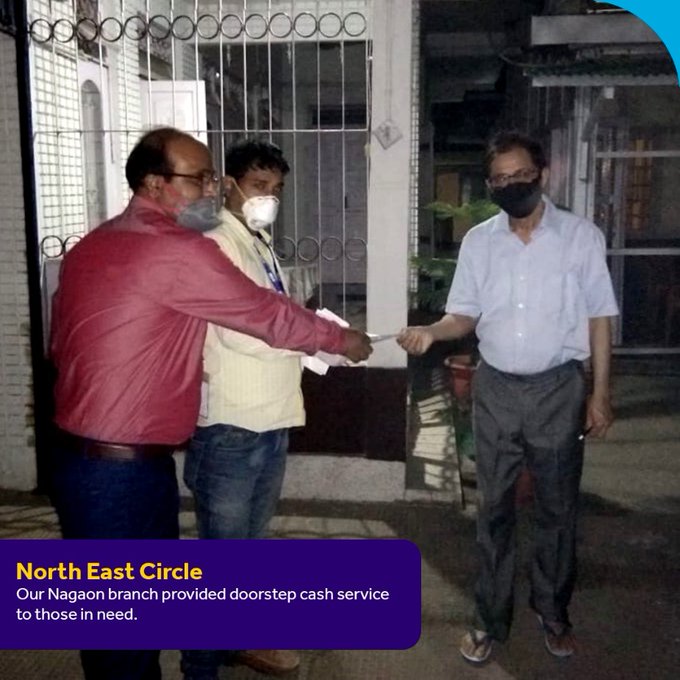 However, the Doorstep Banking Services are available to fully KYC-compliant account holders, with a valid mobile number registered with the bank and residing within 5 KM of radius from their Home Branch. This service will not be available for accounts operated jointly, minor accounts and accounts of non-personal nature.
Here are complete details of the SBI Doorstep Service that an SBI customer must know:
1] SBI Doorstep banking service includes cash pickup, cash delivery, cheque pickup, cheque requisition slip pickup, form 15H pickup, delivery of drafts, delivery of term deposit advice, life certificate pickup and KYC documents pickup.
2] The doorstep service request can be made at the SBI customer care toll-free number 1800111103 between 9 am to 4 pm on working days at the center.
3] The doorstep banking service request for registration is done at the home branch and available to only fully KYC-compliant customers.
4] The doorstep Service charges per visit for non-financial transactions are Rs 60+GST and Rs 100+GST for financial transactions and the amount of cash withdrawal and cash deposit is restricted to Rs 20,000/-per transaction per day.
5] SBI accounts that are operated jointly will not be able to avail of these services.
6) SBI doorstep service will also be unavailable for a minor account and accounts of non- personal nature.
7) Cash withdrawal will be permitted using cheque/withdrawal form with a passbook.
Apart from SBI, some other banks are also providing doorstep banking services to its customers. Customers of HDFC Bank, ICICI Bank, Axis Bank and Kotak Mahindra Bank can also avail of doorstep banking services as these banks are also providing doorstep banking facility to their customers.