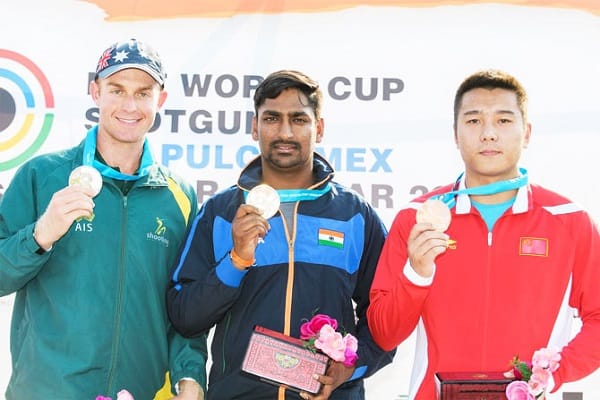 Ankur Mittal wins the bronze medal on Wednesday in the double trap men's finals of the 2018 Commonwealth Games,after recording a score of 53 in 60 shots. This is his first Commonwealth Games medal.This has taken the country's overall medal tally to 24, keeping them at third position behind Australia and England.
Competing for medals with Scotland's David McMath and the Isle of Man's Tim McNeale once compatriot Mohammad Ashab bowed out of contention at fourth place in the six-shooter finals, Mittal did enough to remain in the top three. Mittal, having scored 133 after five rounds in qualification, began behind Ashab initially as the finals began but improved to seal bronze.
McMath won gold with a CWG record score of 74 and McNeale claimed silver with a total of 70.
The 26-year-old shooter from Haryana is a recipient of the Shooter of the Year Award at the third Mahindra Scorpio Times of India Awards (TOISA) in February, following a breakthrough 2017 in which he made it to No 1 in the men's double trap by winning one gold and two silver medals at ISSF events and another gold at the Commonwealth Shooting Championships.
At the ISSF World Cup in Delhi, Mittal won silver in the men's double trap and then improved the colour to gold at the ISSF World Cup (Shot Gun) in Acapulco, Mexico. He then won gold at the 7th Asian Championship Shotgun in Astana, Kazakhstan, as well as a team gold, followed by another silver at the ISSF World Shotgun Championship in Moscow. As the year drew to a close, Mittal won gold the Commonwealth Shooting Championships in Brisbane.