Money Heist Season 5: Netflix has confirmed when Money Heist's eagerly anticipated fifth chapter is set to land on the global streaming service – but there's a bit of a twist.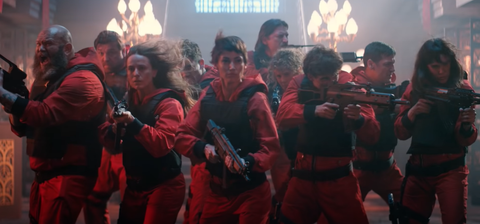 According to this, the fifth instalment of the popular show will be released in two volumes. Volume 1 is set to be streaming from September 3, while Volume 2 is scheduled for December 3.
In the clip, things are looking dire for the crew. They're being shot at, and the Professor is tied to a chair. It looks like the group are intent on going out guns blazing, though. Check out the video below.
Money Heist season 5 will see the fallout of the explosive events of season 4, picking up with the crew stuck inside the Bank of Spain – where they've been for more than 100 hours. Although they've saved Lisbon, the Professor is stuck in a sticky situation with Sierra, and, this time, has no plan to get out. To make matters worse, the army are on the scene, too. Expect bullets to fly in the final installment of Money Heist, with the official synopsis promising "what began as a robbery will turn into a war."
Most of the main heist members are expected to be back for season five of the Spanish drama.
This is epxetced to include Tokyo (played by Úrsula Corberó), Professor (Álvaro Morte), Lisbon (Itziar Ituño), Rio (Miguel Herrán), Denver (Jaime Lorente), Stockholm (Esther Acebo), Palermo (Rodrigo De la Serna), Helsinki (Darko Peric), Bogotá (Hovik Keuchkerian) and Marsella (Luka Peros).
As well as this, characters like Arturo (Enrique Arce), Alicia Sierra (Najwa Nimri), Manila (Belen Cuesta) and Gandia (Jose Manuel Poga) are all expected to return after their storylines ended on slight cliffhangers.