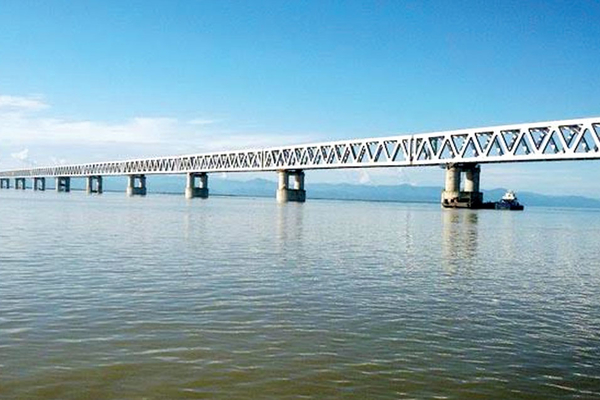 Bogibeel bridge, India's longest rail-cum-road bridge on the Brahmaputra connecting Dibrugarh on the south bank to Dehamji in the north which will boost defence logistics along the China border and reduce travel time for rail passengers and road users is expected to be opened for public by October this year.
The 4.94 km long bridge has already missed several deadlines. The railways said that all work of Bogibeel including civil, clectrical and signaling targeted to be finalised by July 2018.
The double decker bridge has three lane roads on top and double line rail below.
"The inspection by Railway safety commissioner is likely in August and after getting the approval, we will start the operation. The train of new route will run from here while the road bridge will help the army a lot. They cross the river by boat which takes an hour while after the bridge is open, it will just take 5 minutes," said Ved Prakash, Indian Railway spokesperson.
With next road bridge 255 km away and next rail bridge 560 km away, the opening of Bogibeel bridge will save at least three hour of travel time between Assam and Arunachal Pradesh. The bridge will make Itanagar in Arunachal Pradesh easily accessible from Dibrugarh.
"The bridge will also provide connectivity between rail network on north and south banks of river Brahmaputra after Saraighat Rail-cum- Road Bridge at Guwahati. It will also provide road connectivity between north and south bank of Brahmaputra after the Tezpur road bridge," Prakash added.
The distance between Delhi and Dibrugarh will also be reduced by 155 km, saving three hours of train journey. However, whether the existing train's route will be changed or a new train will be introduced is yet to be decided.
"This will also accelerate socio-economic development of Upper Assam and eastern part of Arunachal Pradesh. It will also strengthen national security of eastern region of India," said an official of north frontier railway.
Prime Minister Narendra Modi is likely to inaugurate the bridge once the date is finalised.