Kisan Suvidha mobile application
Kisan Suvidha: Despite having an agriculture-centric economy, farmers still fail to get the best price for their produce. Unfortunately, it transpires that other facilities that have been put in place by the government are not available to them due to lack of first-hand information.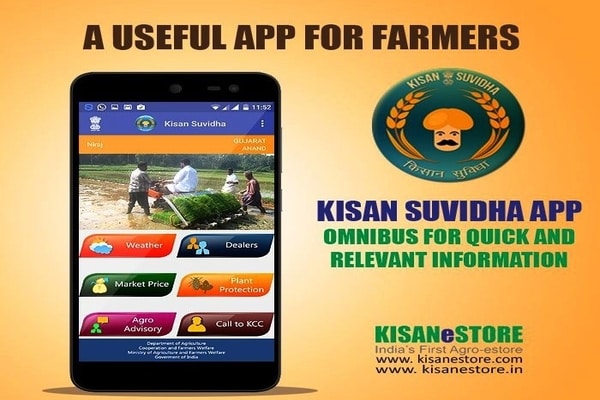 However, this critical gap may well have been bridged by the government through technology now. This mobile application, named Kisan Suvidha mobile application, developed by the government will make farmers life much easier. Through this app now farmers will get first-hand information on weather; market prices, plant protection, agro-advisory; extreme weather alerts, dealers–seed, pesticide, fertilizer, farm machinery, soil health card; cold storage & godowns, veterinary centers, and diagnostic labs.
Kisan Suvidha mobile application will facilitate dissemination of information to farmers on some critical parameters. Farmers can download Kisan Suvidha app through Google Play Store and mkisan.gov.in to access all the information free of cost, Ministry of Agriculture & Farmers Welfare said in a statement. 
Farmers' portal provides information on all agriculture-related areas through a single umbrella. Farmers can also get scheme-wise information from the portals of the Sub-mission on Agriculture mechanization.
Though they can find all the information through the app, they can also visit these government portals for various agricultural scheme-related details: farmech.dac.gov.in,  midh.gov.in, pmksy.gov.in, pmfby.gov.in, soilhealth.dac.gov.in, nmoop.gov.in, nabard.org, nmsa.dac.gov.in, etc.
No data about systems developed by the states for the dissemination of information is maintained centrally. However, as per information provided by some states, Haryana, Rajasthan, Andhra Pradesh, Telangana, Tamil Nadu, and Meghalaya have developed portals to disseminate information, inter-alia, about schemes relating to farmers, an official statement revealed.
---
RELATED UPDATES
Google Family Link App: Now keep track of your child's smartphone activities