One of the most widely used messaging platforms worldwide is WhatsApp. Due to the regular addition of new WhatsApp features, it is actually no longer merely a texting software. To improve the service for its consumers, the company is regularly testing and adding new functionality to the application. like previously it introduced the feature of hiding online status.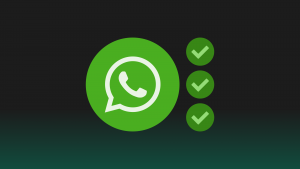 WhatsApp is now developing a new feature that will allow users to amend previously sent messages. The "edit message" option simply gives the user a time frame in which to alter their message. Don't anticipate the functionality to appear any time soon in the official version of the app as it is still being tested. However, a teaser from the app has leaked some fresh details regarding the feature.
Users will soon be able to edit messages in WhatsApp and correct typos. When WhatsApp tracker WABetaInfo discovered the functionality under progress in June of this year, it gave an earlier signal about its availability. Since then, the quick messaging service has been working on it, beginning with a laptop beta test. According to recent developments revealed by WABetaInfo, an "edited" label will appear soon.
Report Analysis
According to the report, WhatsApp users would have the option till 15 minutes after sending a message to modify it. Although mentions in the beta update hint that we might be able to use the beta version in the future version, WhatsApp has not yet made any formal announcements about the forthcoming functionality.
One of the important features that users have been requesting for a long time is the ability to alter WhatsApp messages. It doesn't follow that Apple iPhone owners cannot expect to use the functionality even if mentions of it were only found for Android smartphones. WhatsApp typically tests innovative features in stages, and occasionally one market will get a feature before another.
How to use this upcoming "edit message" WhatsApp feature
These messages can be accompanied by the 'Edited' mark on WhatsApp. Additionally, after a user clicks the submit button, the option to modify a message might only be accessible for a brief period of time likely for 15 minutes.
Other upcoming features
Another wabetainfo source, however, claimed that WhatsApp is preparing to launch one more new feature that will enable users to comment on any document they send via WhatsApp. The file-sharing option on the online messaging software will get a caption element. A capability for sharing files with a caption will soon be available in the future upgraded version of WhatsApp, according to WabetaInfo, a site that analyses WhatsApp's evolving and planned capabilities. While WhatsApp now permits document sharing, it does not offer the ability to add a caption to the content.