Ratan Tata is also renowned as a man of integrity, a great inspiration, and one of the world's most wealthy and powerful persons. Mr. Ratan Tata is an Indian businessman, philanthropist, and former head of the Tata Group of Industries. His net worth is projected to be one billion dollars, which is about R s.8210 crores in Indian currency.
View this post on Instagram
Despite huge wealth why is Ratan Tata not on Forbes' list of billionaires?
According to the IIFL Wealth Hurun India Rich List from last year, there are 432 Indians wealthier than him. It would seem natural to expect a person who has run India's greatest commercial empire for over six decades and still has enormous power over its firms to be among the top ten or twenty richest Indians. However, this is not the case. And the explanation for this might be Tatas' tremendous philanthropic activities throughout the Tata Foundation.
TATA Group operates 96 enterprises, 28 of which are publicly traded on stock markets throughout the world. Tata Group is ranked number 50 in the world in terms of market capitalization and prestige. Have you ever wondered why Ratan Tata's name isn't on the listing of billionaires? Why is Tata not listed as a billionaire on Forbes magazine's annual of the world's billionaires? The reason for this is that the TATA Group's 96 firms are owned by its parent firm "TATA Sons," and the major shareholder of this TATA Sons is not Ratan Tata, but rather different philanthropic organizations created and controlled by the TATA Group.
Tata Sons are the promoter of the principal operational group Tata firms and have a large stake in them. Approximately 66 percent of Tata Sons' equity is held by charitable trusts donated by Tata family members. The Sir Dorabji Tata Trust, as well as the Sir Ratan Tata Trust, are the two wealthiest of these trusts. The Tata group is made up of over a hundred functioning firms spanning six continents.
Luxury bungalows and cars
Mr. Ratan Tata lives in Mumbai, India. In 2015, he purchased this Luxury Home. The valuation of this residential property is about Rs. 150 crores. He has several properties around India.
Mr. Tata's car collection is pretty extensive. He has some of the world's most luxurious automobiles. Mr. Ratan possesses the following car brands:
Ferrari

Mercedes-Benz

Honda Civic

Range Rover

Tata

Maserati Quattroporte

Cadillac XLR

Chrysler Sebring

Jaguar

Buick Super 8
Business Ventures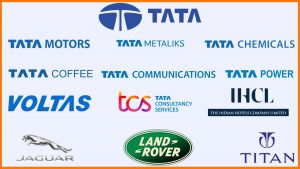 Ever since the company's inception, the business tycoon and his family members have been involved in charitable endeavors. With anticipated sales of US$103 billion in the previous year, the Tata group is one of the largest in the world. Ratan Tata has a diverse portfolio that includes:
Air India

Tata Motors

Tata Steel

Tata Communications

Tata Chemicals

Tata Consumer Products

Tata Consultancy Services

Titan

Tata Power

Tata Capital

Indian Hotels

Tata Digital

Tata Electronics.
Read More: Elon Musk's net worth after the takeover of Twitter in 2022: Background, Companies Owned, and Other Info