The Indian Space Research Organisation (Isro) on Wednesday released new three-dimensional images from the Moon's surface captured by the Chandrayaan-2.
The images of a crater from the lunar surface was captured by the Terrain Mapping Camera-2 aboard Chandrayaan-2.
The triplet images from TMC-2 when processed into Digital Elevation Models, enable mapping of surface landform morphologies.
THESE INCLUDE: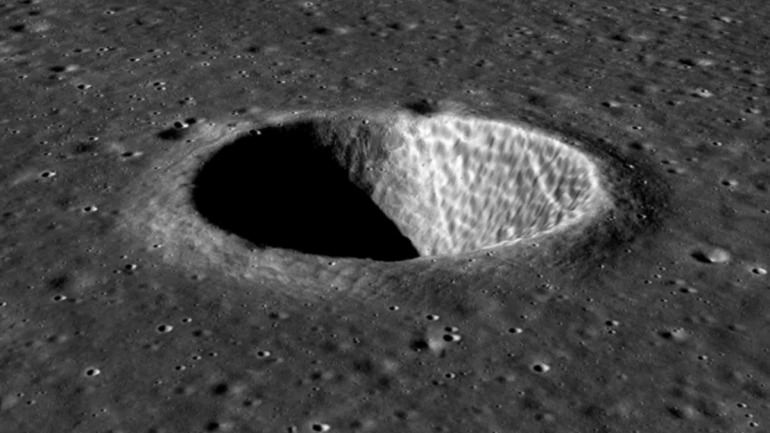 Craters (formed by impactors)

Lava tubes (potential sites for future habitability)

Rilles (furrows formed by lava channels or collapsed lava tubes)

Dorsa or wrinkle ridges (formed mostly in Mare regions depicting cooling of and contraction of basaltic lava)

Graben structures (depicts the structural dislocations on the lunar surface)

Lunar Domes/Cones (denoting localised vents of past volcanism on the Moon)
Chandrayaan-2's Terrain Mapping Camera-2 (TMC-2) has also imaged a 3D view of a wrinkle ridge near Dorsa Geikie.
The spacecraft was launched on its mission to the Moon from the second launch pad at the Satish Dhawan Space Centre on 22 July 2019 at 2.43 PM IST (09:13 UTC) by a Geosynchronous Satellite Launch Vehicle Mark III (GSLV Mk III). The craft reached the Moon's orbit on 20 August 2019 and began orbital positioning manoeuvres for the landing of the Vikram lander. Vikram and the rover were scheduled to land on the near side of the Moon, in the south polar region at a latitude of about 70° south at approximately 20:23 UTC on 6 September 2019 and conduct scientific experiments for one lunar day, which approximates two Earth weeks.
The Indian Space Research Organisation (Isro) on October 24, releasing a picture on its Twitter handle, said that the images were taken by the Dual Frequency-Synthetic Aperture Radar (DF-SAR) on its Chandrayaan-2 Orbiter.