If you're in need of visual inspiration and a big cinematic hit of nature, then these movies will make you fall headlong in love with the great outdoors.
'Night on Earth'. The documentary is on Netflix.
Our planet is so stunningly beautiful, you can watch its beauty unfold for hours in Moving Art – especially now that we've been homebound for more than a year. There are four seasons of this documentary series on Netflix, and it still has not explored many a nook of our beautiful planet.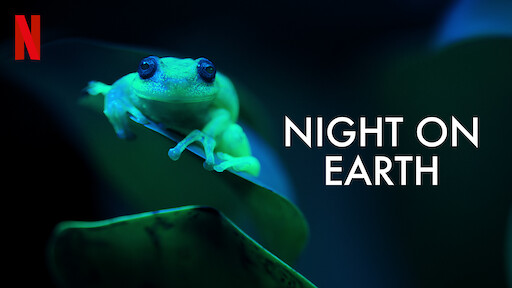 PLANET EARTH: MINISERIES (2007)  95% (DISCOVERY CHANNEL)
What it is: Like Our Planet, but released a decade earlier and by the BBC, Planet Earth charts the Earth's ecosystems episodically. Perhaps no voice is more recognizable in the nature documentary genre than that of British natural historian David Attenborough, who narrates the BBC version of this documentary series (if you watch the Discovery Channel version, you'll hear none other than Sigourney Weaver guiding you through each hour-long episode). Planet Earth is essentially the go-to for nature series. It won four Emmys the year it was released: non-fiction series, cinematography, sound editing, and music.
Critics Consensus: Planet Earth weaves innovative camera techniques and patient observation to deliver viewers an astounding glimpse of the world's perils and wonders, capturing jaw-dropping scenery and animals on both an epic and intimate scale.
Where to watch it: YouTube, Amazon, iTunes, Google Play, Vudu
Commitment: 9 hours (11 episodes, around 50 minutes each)
Nature's Great Events (2009)
Though many titles on the Planet Earth channel typically fall into a recognizable subcategory of nature documentaries — offering a wide overview of natural life on the entire planet or in a specific area — Nature's Great Events zigs instead of zags. As the title implies, the six-episode series focuses on six events in the animal kingdom that occur each year. Some may be vaguely familiar to non-nature buffs, such as the salmon run on North America's Western coast, or the migration of animals on the Serengeti. But Nature's Great Events stands out because it highlights the BBC Natural History Unit's novel approach to documenting the natural world without always relying on the same formula.
Free Solo
I have had the privilege of watching this documentary on the big screen and I came away feeling humbled, not just by nature, but by the indefatigable spirit of man. How easily we give up our daily challenges while other manage to scale the insurmountable.
Alexander Honnold's ascent of El Capitan – without ropes and safety equipment – is captured beautifully in the film by directors Elizabeth Chai Vasarhelyi and Jimmy Chin (the mountaineer who also made Meru).
Free Solo is on Disney + Hotstar