Prime Minister Narendra Modi is set to address the nation on June 21 at 6:30 AM on the occasion of International Yoga Day. The theme of the sixth edition of the International Yoga Day is "Yoga at Home and Yoga with Family" and will focus on yoga at home with family members amid the Coronavirus pandemic and the consequent lockdown. Earlier, the Prime Minister had also launched an event – 'My Life My Yoga' – in his previous 'Mann ki Baat'.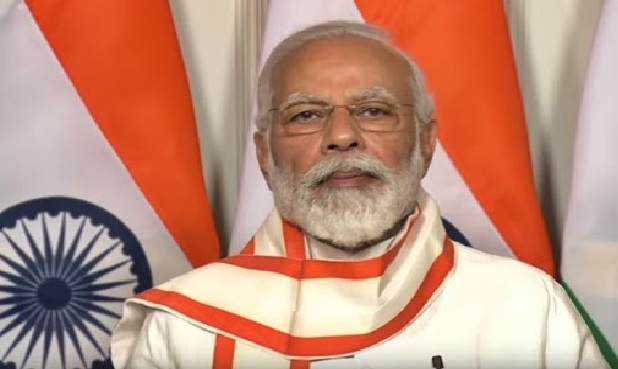 While the central and state governments have celebrated the day with mass participation events for the last five years, this year the day falls right in the middle of the Covid-19 pandemic which has pushed much of the world indoors.
Prime Minister Modi, in his flagship radio program 'Mann Ki Baat', had launched an event – 'My Life My Yoga' to encourage people to stay active and fit during the COVID-19 lockdown. This year the Yoga day will be observed to highlight the health-building and stress-relieving aspects of Yoga.
Ministry of AYUSH in a statement said that due to the contagious nature of COVID-19, no mass gathering would be advisable. "Due to the contagious nature of COVID-19, no mass gathering would be advisable this year. Hence, this year the ministry is encouraging people to practice yoga at their homes, with participation from the entire family," the statement read. The Prime Minister has been an active proponent of Yoga and its benefits ever since he was elected back in 2014.
International Yoga Day is celebrated on June 21 every year after PM Modi during his UNGA speech proposed it. The Prime Minister, in his speech, had said, "Yoga embodies unity of mind and body; thought and action; restraint and fulfillment; harmony between man and nature; a holistic approach to health and wellbeing".
PM calls an all-party meeting
Prime Minister Narendra Modi has called an all-party meet on June 19 at 5 PM to discuss the situation at India-China border areas, following Monday night's clash between Indian and Chinese soldiers at Galwan Valley in eastern Ladakh, that saw 20 Indian soldiers being martyred. The Prime Minister's office has said that presidents of various political parties can take part in the meeting that will be held virtually due to the Coronavirus outbreak.
`
PM-CM meeting
Prime Minister Narendra Modi held a meeting with Chief Ministers of states and Union Territories on Tuesday and highlighted the efforts taken to dilute the Coronavirus consequent lockdown and the pandemic itself, in his opening remarks. The Prime Minister emphasized that India is one of the countries where deaths due to COVID-19 are the least and that the country had already started preparing back when the pandemic was not even a part of global discussions. PM Modi stressed on the steps taken by the government to dilute the lockdown and informed that since the past few weeks 'green shoots' have been visible in the Indian economy.