South Korean tech giant Samsung unveiled its 2020 flagship Galaxy S lineup with three new phones — Galaxy S20, S20+ and S20 Ultra — at its Galaxy Unpacked event.
All the three Galaxy flagship phones– S20, S20+ and S20 Ultra — will be backed by the same 7nm 64-bit octa-core processor. There are two processor variants, one powered by the flagship Qualcomm Snapdragon 865 processor while the other option is Exynos 990. For India, Samsung is expected to launch the Exynos 990 variant. All the models run Android 10-based OneUI and the

interface

is the same.
There is IP68 dust and water protection on all models along with ultrasonic in-display fingerprint scanner, face recognition and reverse charging.
Samsung Galaxy S20, Galaxy S20+, Galaxy S20 Ultra price and availability
The Samsung Galaxy S20 series will be available starting March 6 in various colours, the company says. The company has announced the smartphones will be priced ranging from $999.99 (roughly Rs. 71,300) up to $1,599.99 (roughly Rs. 1,14,100). The Galaxy S20 5G will be priced starting at $999, while the Galaxy S20+ 5G will be priced starting at $1,199 (roughly Rs. 85,500), and the Galaxy S20 Ultra 5G will be priced starting $1,399 (roughly Rs. 99,800). This being the global announcement, we don't have any details about India pricing or availability just yet.
Samsung also launched the Galaxy Buds+ truly wireless earphones, which now feature two-way speakers, three microphones for improved sound and voice clarity, and up to 11 hours of battery life on one charge, with the case adding another 11 hours. The earphones will have their own app called 'Galaxy Buds ', which allows them to finally work with iOS devices. At the event, Samsung also launched the Galaxy Z Flip.
Galaxy S20 series: All that is new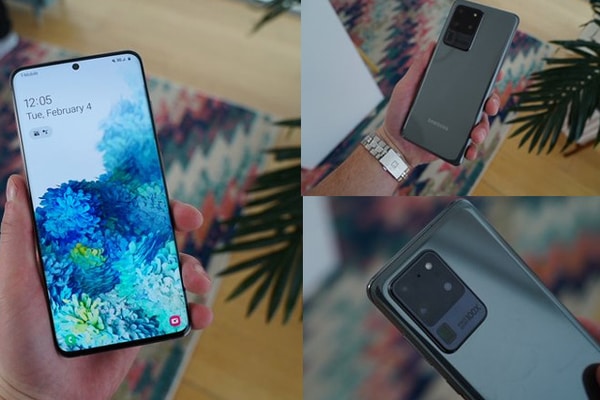 Just the way it is with the design, my quick impression is that the Galaxy S20 series is similar to the Galaxy S10 series in other areas as well. And that is a good thing because why fix something that is not broken. The display in a Samsung Galaxy S series phones has always been perfect. It is the same with the Galaxy S20 series phones. I find the Galaxy S20+ display the right balance between portability and usability. The S20 Ultra display at 6.9 inches is slightly too bigger for a phone, the 6.2-inch screen of the Galaxy S20 may feel small to some. All three phones use AMOLED panels, and there are plenty of pixels on these screens (quad HD and all) to ensure that you are not going to see any jaggies in the text. With the Galaxy S20 series, Samsung is also moving to displays with a higher refresh rate. All three phones support 120Hz refresh rate, and while using the devices I found it to work as intended, which is to say that scrolling is extremely smooth on the Galaxy S20 series phones and touch response is buttery.
All three phones have adequately bright displays. The quality of the colours they show is rich. In other words, soon you ma hear from Display Mate that these the Galaxy S20 series has some of the best screens ever put in a phone.