Zomato-owned Blinkit to start a new service to deliver printout at the doorsteps of the customers in just 11 minutes. This service will be helpful for working professionals, students, and others. This service will be available in some areas of Delhi-NCR.
The company will charge Rs 9 for black and white printouts, Rs 19 for color printouts, in addition, the delivery charge of Rs 25 will be charged by the customers. The service will now help the users to get their documents printed and delivered quickly to their location by just uploading them on the Blinkit application.
Jitesh Goel, Product Manager at Blinkit via LinkedIn announced that Blinkit is giving printouts in minutes in a few areas now. Have never had a printer at home and getting it from cybercafe or libraries or neighbours or offices has always been cumbersome especially when it's needed at the point of approaching deadlines. This should be really useful, especially at the rates it is available at. You just have to upload the file and we will deliver it to you in minutes. There's absolutely no manual intervention in printing and we delete the uploaded file as soon as it is printed.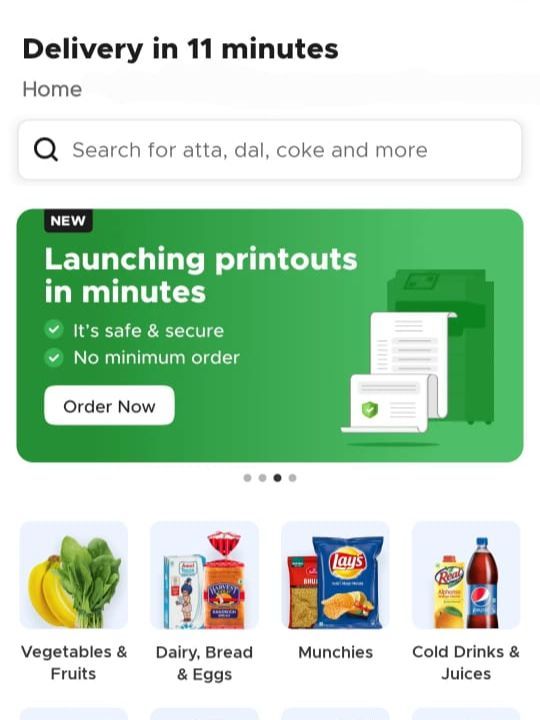 The timing of this service will be 6 am to 12 midnight.  Customers do not require to have bulk copies to get printouts as it has set no minimum order requirement for availing of this new service yet. 
Know more about printout services on Blinkit.
The customers need to check if the service is available in your location and then upload to the given link. You can upload the documents through the Blinkit app using the "upload file button". One can upload and print documents in all popular image formats like jpeg, jpg, png, and pdf files. 
The service supports standard printing options, that is, black and white, colored, single-sided, and double-sided printouts. It also clarifies that all files are safe, secure, and produced under GDPR-compliant conditions. In case of problems, the customer can live chat from the order summary page so we can refund or resend the order.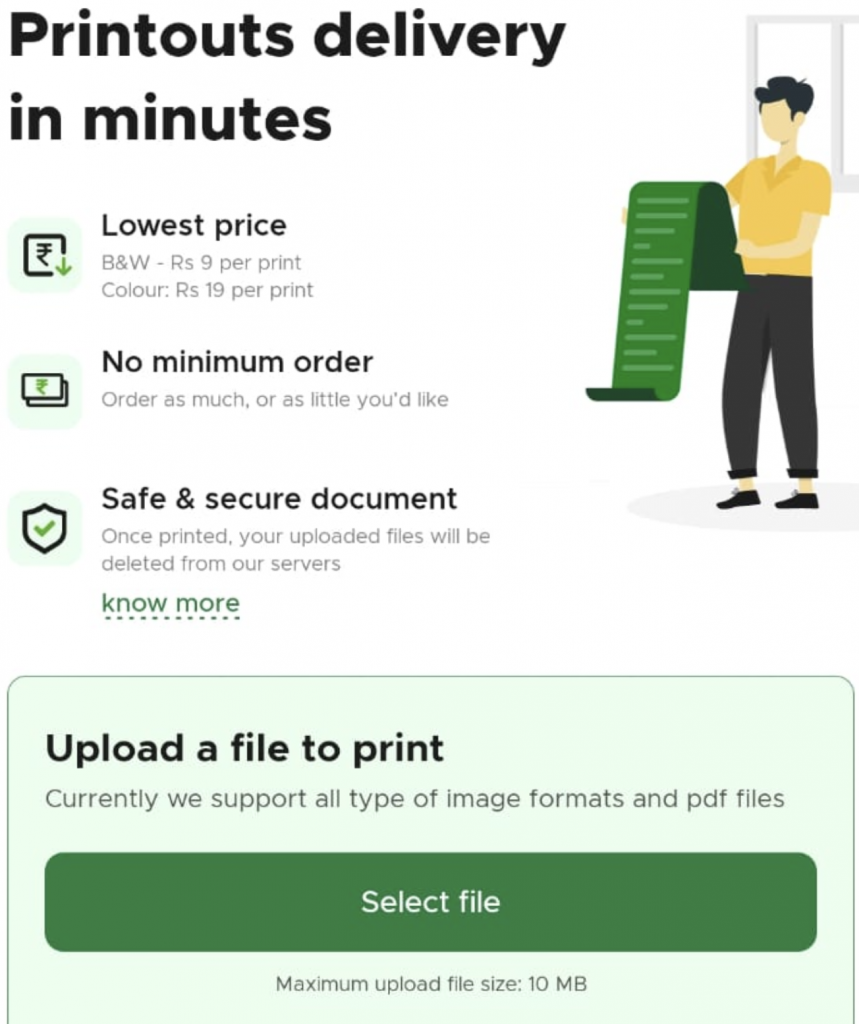 ---
---
In June, the 10-minute delivery platform Blinkit was acquired by Zomato for Rs 4, 4476 crore (about $568 million).  In December 2021, Grofers rebranded itself as 'Blinkit'. This rebranding came in line with the company placing a big bet on the quick commerce or 10-minute grocery delivery space.
Blinkit's annual turnover in the last three fiscals were: Rs 263 crore in FY22, Rs 200 crore in FY21 and Rs 165 crore in FY20.